Owl fish Écologique
The owl/fish is an eco-symbol representing clean air, water and earth.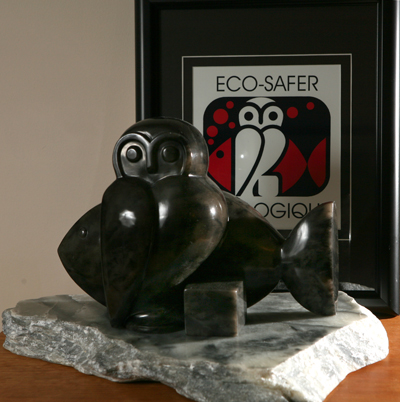 The carving:
Quebec soapstone sculpture size: 12" L x 9" H x 6.5" D resting on a base of Brazilian soapstone.
Base: 17.5' L x 1.75" H x 11.75" D.
Sculpture finished with 3 coats of Clapham's polish and protected with clear lacquer.
Sculpture itself weighs in at 22 lb and the base adds another 10 lb
Sculptor: Beverly Stewart, Pickering, ON. Visit Beverly's site: http://www.bevsgallery.ca
The stand:
There are many times when a piece of furniture plays a supporting role rather than being the center of attention – this is true in the case of this tall stand. The stand is made with solid American black cherry and features splayed legs to draw the eye from the floor to the top of the stand where the beautiful stone carving sits. To accentuate the splay of the legs, a soft, curly maple was inlayed into the outside corner of each leg. All surfaces were hand planed to a high lustre and finished with natural Tung oil to maintain the tactility of the wood. The simple lines, calming wood grain and carefully considered height of this stand all come together to support the carving it was designed to feature...proof that simple and utilitarian can also be beautiful.
Stand Design: Vic Tesolin Furniture Designer and Maker, 2011 Carleton Place, ON
Visit Vic's site and see stand legs in process: http://www.victesolin.ca/imported-20101026012429/month/august-2011
The logo:
Owl/fish ÉCOLOGIQUE logo was created by Greg Backwell, London, ON. Greg is a well-known graphic artist and painter of "hidden picture-within-a-picture" art. Visit Greg's site http://www.gregbackwell.ca
The photograph:
The photograph of the owl/fish carving on black cherry stand is courtesy of Hugh Wesley, photographer, Port Credit, ON. Visit Hugh's site: http://www.hughwesleyphotography.com  
Undefined